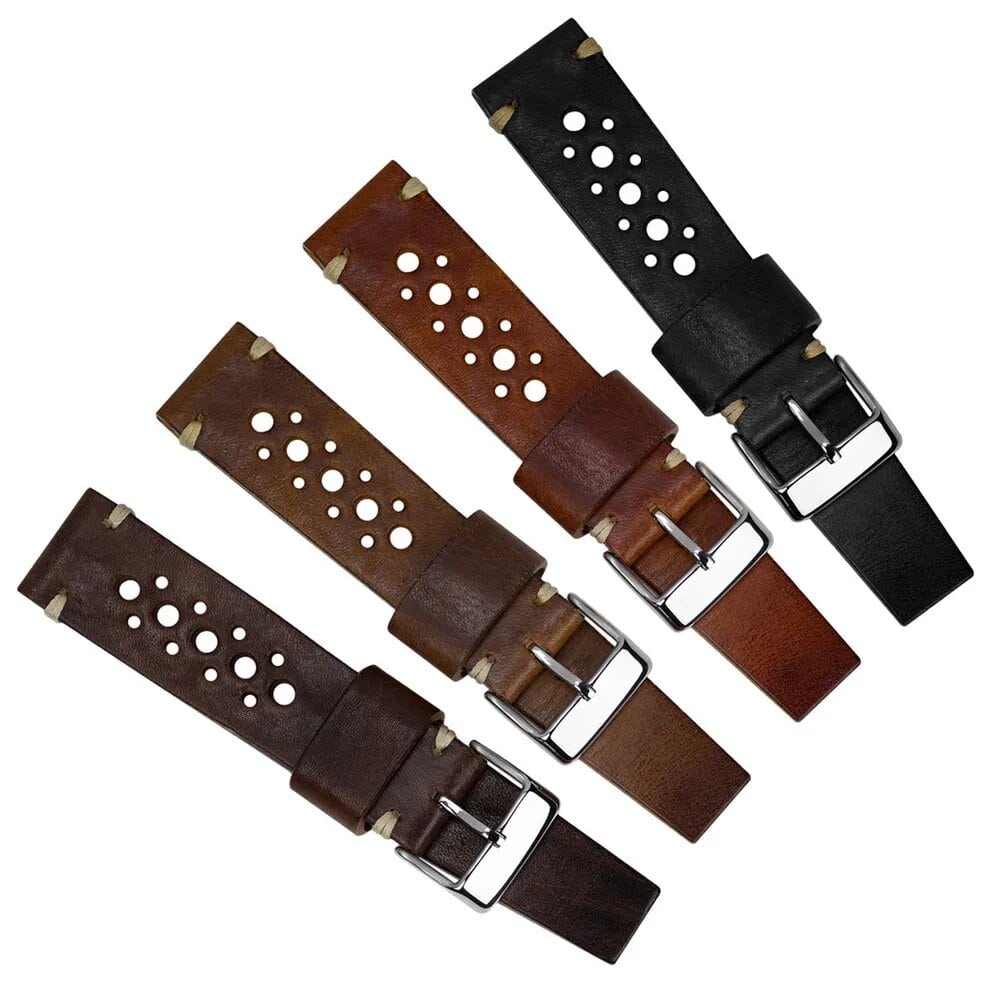 Handmade Classic Flat Vintage Racing Watch Strap
Product Description
Your beautiful Geckota Classic Vintage Racing strap has been skilfully crafted to evoke memories of a golden age of 1960s and 1970s motor sport.
Will you wear yours with a high-fashion designer watch, a classic luxury brand or your new Geckota racing watch? Whatever your preference, the beautiful vintage-style waxed leather looks amazing and gains more character with every wear. And then there's the timeless aroma of leather...
For stunning looks and a sense of 1970s Monte Carlo or Le Mans, we've painstakingly cut and crafted your strap from carefully selected vintage hide. Then we hand stitched it with a thick, durable beige wax thread to perfectly complement the luxurious leather. Finally, we skilfully shaped the edge of your watch strap and sealed it with a clear transparent finish for durability.
For style and added comfort, the punched pattern of perforations echoes the design language of the leather driver's gloves that were worn all those years ago. Similarly, larger perforations allude to racing car components that were perforated to be lighter and gain critical fractions of a second while lapping Spa or the Targa Florio course in Sicily.
The result is an impressive statement on your wrist, a sure conversation starter and a way to show your affinity for motor sport in conjunction with a favourite watch head.
The Geckota Classic Vintage Racing strap is available in a selection of deep, warm colours and popular 20 mm and 22 mm lug-widths to suit a wide range of vintage and contemporary watches.
The Buckle is made from solid, polished stainless steel. It's designed so the leather strap fits neatly into a recess for a comfortable wear. For your added reassurance, the buckle tongue is also manufactured from solid, strong, secure stainless steel.